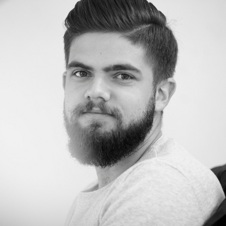 Radu-Bogdan Croitoru
Head of Data Engineering – Engineering
Meet Our Humans
At AutoUncle we're committed to creating The Most Human Company. And that starts with one person at a time.
We think there's no better way to learn about who we are and how we work than to hear directly from our team members. 
So we asked some of our awesome colleagues like Radu to share some of their thoughts and impressions so far in their journey with Autouncle, and what being part of The Most Human Company means to them. These are their words.
---
 Radu-Bogdan Croitoru is Head of Data Engineering at AutoUncle and sits in the Cluj office in Romania. Since 2014, Radu has been part of AutoUncle's development team, and has held multiple different roles. The profile below is compiled from an interview and has been edited and condensed for clarity.
If you're interested in working with great humans like Radu, check out our openings.

Last updated January 2021.

---
From geek to… head geek
I started out as a Ruby on Rails developer, later on being promoted to senior developer. I was quite a geek — I still am. Recently I got a chance to become a team leader, so now I manage a data engineering team, which is quite exciting.
This code is amazing
The interview was different than I expected. I was given a test and there was no deadline, so I did it from home whenever I had time. The test required building  a system that fulfills three requirements related to scraping and crawling, like the kind that AutoUncle does. 
I created a platform for finding hospitals around the city. And of course, everybody knows where the hospitals are—it's not a huge city. But, you know, it met the requirements of the project, by crawling and getting all the hospital information like address and postcode and plotting the hospitals on a map. It was quite cool.
It worked, and I think it got pretty close to what AutoUncle was already doing. We had a very similar approach and it made me very excited to work for someone who thinks like me.
I also got access to the code before I was hired, so I could see what it looks like and I thought, "Holy fuck, this is amazing." It was much more advanced than I was used to, and I got so excited.
I did not even bring salary expectations into discussion right away, that's how motivated to start I was.
Pivoting, or failing with bravery
In 2016 we had a situation where we had to rethink a lot of our strategy and change the platform. I flew to Denmark so we could work together to pivot toward something else. 
I remember just feeling really energized. We worked all weekend, lots of pizza, lots of Coke, and we changed all our current projects and made plans for new projects. To be honest, not all of our plans worked — one of our big projects failed — but instead of sitting at home, we said okay, this is the situation, let's get together and change things. We all felt that we could turn things to our favor if we acted on it.
Getting the vaccine (no, not that vaccine)
On average (and in normal, pre-Corona days) I usually travel to Denmark six times a year. We have these quarterly all-hands events, and I've never missed one. Besides quarterly events, I like to make sure I am in Denmark for the Christmas party plus one or two special projects as well.
The quarterly meetings are excellent. Getting everyone together in one room is really nice, and I think it's also important for all the new people to be able to meet their colleagues and get a true sense of how we work.
We call it getting the vaccine — the AutoUncle vaccine. But maybe we should call it an injection because a vaccine is to prevent something… In any case we all get a strong dose of the AutoUncle energy which inspires us to keep working hard on what's coming up next. 
A culture of honesty
I believe every company has fun in its own way. And to be honest we didn't talk about this culture thing that much back in the days when I first started. When I joined the whole company only had seven or eight employees in total. And then of course we grew very quickly. 
I think it was during that growth phase — doing all that hiring — that we realized the culture was very important. We had to identify who we were so we could define what kind of people we wanted to hire. And having that guide is very helpful when I'm recruiting so I have something to refer to. 
We all have limitations, and I want to work well with people — not against them or in spite of them. I always want to be very straightforward with my colleagues, and I don't want to worry about sharing an honest opinion and having someone take it personally. At AutoUncle we can be completely honest with each other, and that's what matters most to me.
Understanding the Most Human Company
I think the Most Human Company is a place where you get a lot of understanding from each other. I think everyone has ups and downs, and it's important to be able to talk about that in a professional way.
When we meet, we always start with a check-in, so the other person knows if you have something on your mind. It's also so I can know if something is going on in the other person's life which might affect the work I'm doing. If so, maybe I'll try to reschedule, but I can't have hard feelings about it because I know that someday I will be like that, too.
I think a big part of being the Most Human Company is that you then have an understanding where I am and vice versa.
My growth as a human with AutoUncle
I used to be shy. I never liked to speak in public, and I had a hard time opening up to new people. I don't feel like I have this problem anymore.
I think it is related to how we work at AutoUncle. I'm not exactly sure what the moment was that changed things for me. I'm still an introvert. But it's really helped me interact better with my colleagues, and I don't have a problem meeting and connecting with people anymore. 
I feel that the person I am today is part of how AutoUncle operates, for sure. I would probably be a totally different person if I was working in a different, more corporate environment. 
Here to stay — as long as there's a challenge 
People leave other people, not jobs. At least this is what I have experienced and believe.. So far I've had an exciting journey with my colleagues and I feel very motivated about the things we're doing and the things we're going to do. I see the company growing, so I'm not looking for a new job or anything. I have gotten some offers — but to be honest I just wasn't interested in any of them. 
I think people leave their jobs when they want a different challenge. I feel quite challenged here, so I don't feel the need for something else.