Line Lyngdahl
B2B Marketing Communication Manager – Marketing
Meet Our Humans
At AutoUncle we're committed to creating The Most Human Company. And that starts with one person at a time.
We think there's no better way to learn about who we are and how we work than to hear directly from our team members. 
So we asked some of our awesome colleagues like Line to share some of their thoughts and impressions so far in their journey with AutoUncle, and what being part of The Most Human Company means to them. These are their words. 
If you're interested in working with great humans like Line, check out our openings.
---
Line Lyngdahl is a Customer Success Manager at AutoUncle HQ in Aarhus, Denmark. The profile below is compiled from an interview and has been edited and condensed for clarity.
Last updated January 2021.
---
Line Lyngdahl, Customer Success Manager
It started with a gut feeling
Interviewing for AutoUncle was a really nice process. It never felt corporate or awkwardly formal — more like a nice discussion. And I had this feeling like, "I can bring something to you." A really great experience. 
I met four different members of the team, and they were talking a lot about having a gut feeling. They really encouraged me to think about the job: is it something I really want, can I really see myself working here. They talked a lot about the culture and what to expect. 
At that time I was really only interested in taking a job where I felt it was really something I wanted to do. And I didn't even make it out of the parking lot before I knew, this is what I wanted. I just had that gut feeling. 
Everyone prioritizes being here
From the beginning I was completely honest: I can't be here from 9 to 5 every day. That's not how my family life is structured, and I need to make that work as well. So we had that discussion from the beginning, and it wasn't ever a problem. 
Everyone has the option to work flexibly. But what I see is everyone prioritizes being here, more than working from home. And that's a good sign. 
There's no one path to Customer Success
Customer Success is a combination of product, sales, and marketing — and customer service, of course. And I have been working with all of these. So I've focused only on product, only on marketing, only on sales, and this is kind of a combo of everything. So it's kind of the job I never knew was going to be perfect for me.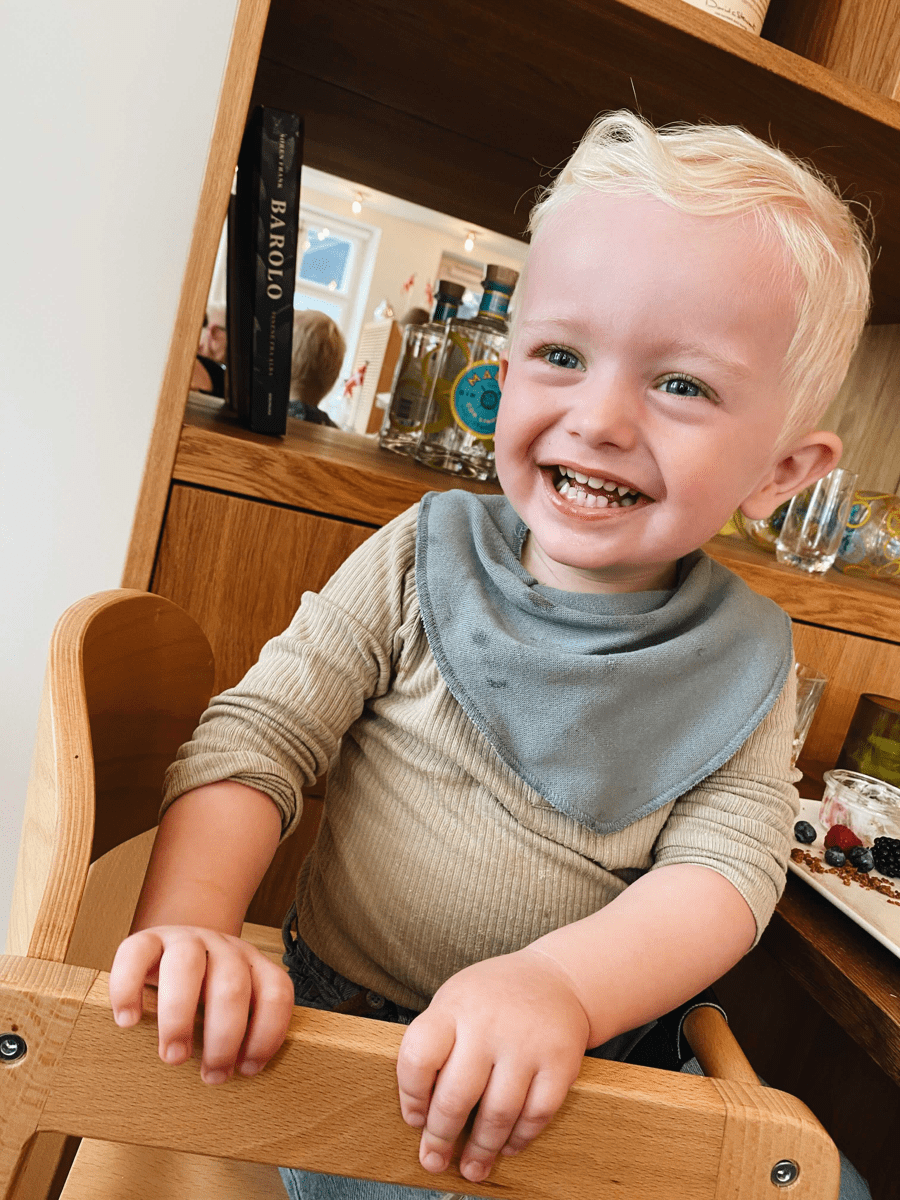 The most human company is a happy place, even for its youngest humans, like my little chaos tornado, Arthur, who just turned two.
When it comes to culture, actions speak louder than words
I think a lot of people have had the experience where you're told one thing about the working culture, and really it's totally different. I definitely have. So I was a little skeptical going in, but in the first few weeks, I did see that the culture fit what I had been told during the interview.
So the top leadership says we're working on "the most human company." And then to actually see them do so many things to make sure that there are actions behind the words, makes everyone else down the organization do the same. And it doesn't matter your role or job description, because when you see management do that, you take ownership to do it too. 
So for example, we do check-ins. They introduced that. And honestly I hate things like that. The worst thing you can do to me is put me in sales or role-playing workshops because it feels so forced and unnatural. And at first I thought it was just one of those things that sounds good and then next week people are completely over it. But then people really take ownership of it. And people at the top are really doing it, consistently. And when they're doing it, we're doing it. And now it feels natural. 
There is also a strong focus on bringing in diversity, meaning people with different skills. And altogether the company really encourages collaboration.
Succeeding with 🚀 🌟 🏆
We have Slack channels for different teams to share successes. And then, we have an emoji culture. Everyone reacts with a rocket or a star or a gold medal, and I just love it. And everyone goes in there and just celebrates. And it's not just the team or even the country, it's everyone. 
People here are really good at saying, "Hey that was great, good job." 
Failing with grace 
The culture at AutoUncle is very "Go for it, we've got your back, just try it." If you're going to fail, you're going to fail. And that's ok. Rather you do that and say, "Ow, that wasn't my finest moment," while knowing there's room for that. Because that changes the way you work and the way we work. We could really use your skills to help us be better, but we're also here to help you learn and do better. So there are two-way expectations and a strong focus on personal and professional development. 
Good lunch, better company
I think that in most companies you have a handful of people who you normally sit and talk with at lunch. Here we all eat at the same time, and almost every day I'm sitting next to a different person. And I think that says a lot about the culture. We sit down with people from different departments. And it's a great way to not talk about work. You get to know people in a different way. And it happens naturally. We're just sitting down and talking together.
Bring on the day
My main hobby is working out. That's my thing. I do strength training. Not like on tv with 200 pounds or whatever, but I go to the gym every morning before work. You know when you have work and family life and the kid is doing his activities, the daily life is so structured. And that's how it is. But that one hour every morning, that's just for me. No phone, no cooking, I'm just here starting my day off and I'm ready for whatever the day brings.